Data-Driven Innovation Lab milik Singapore University of Technology and Design (SUTD) memperbarui prediksi akhir pandemi virus corona COVID-19 di Indonesia. ADVERTISEMENT
Berdasarkan hasil pemodelan matematika mereka, Indonesia tidak akan memiliki kasus corona baru mulai 1 September 2020. Artinya, mulai tanggal itu Indonesia diprediksi sudah terbebas dari virus corona, menurut data SUTD per 28 April 2020. Sementara itu, akhir pandemi virus corona di Indonesia diprediksi terjadi mulai 4 Juni, di mana pada tanggal tersebut jumlah kasus COVID-19 di Indonesia akan mencapai 97 persen dari yang telah diperkirakan. Kemudian meningkat jadi 99 persen pada pertengahan Juni 2020. dan 100 persen pada 1 September.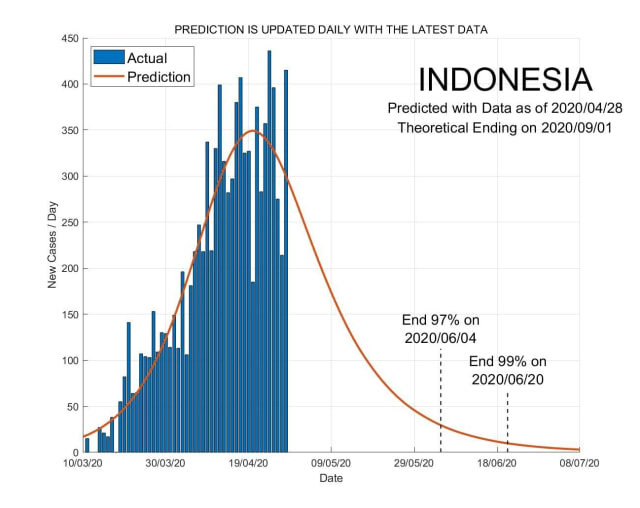 Prediksi ini dibuat menggunakan teknologi kecerdasan buatan (artificial intelligence) berbasis pemodelan matematika menggunakan data SIR (susceptible–infected–recovered) Pemodelan SIR ini meregresikan data orang terduga pengidap COVID-19, pasien positif, dan pasien sembuh yang dihimpun dari Our World in Data. Data tersebut menghasilkan simulasi kurva pandemi COVID-19 di sejumlah negara yang akan selalu diperbarui sesuai dengan perkembangan data COVID-19 di masing-masing negara. Perubahan data akan berdampak pada perubahan simulasi prediksi akhir pandemi. ADVERTISEMENT
Pandemi COVID-19 di sejumlah negara seperti Jerman, Malaysia, Spanyol, Prancis, dan Amerika Serikat diprediksi akan mulai berakhir pada Mei 2020. Namun, simulasi itu memprediksi negara-negara tersebut baru akan 100 persen bebas corona beberapa bulan setelahnya.Pandemi COVID-19 di Meksiko, Austria, Singapura, dan Bangladesh diprediksi akan 100 persen bebas corona lebih awal yaitu pada Juni 2020. Sementara di Kuba, Malaysia, Qatar, dan Swiss, pandemi virus corona diprediksi 100 persen berakhir pada Juli 2020.
Di sisi lain, pandemi COVID-19 di sejumlah negara Eropa seperti Inggris, Jerman, Prancis, dan Spanyol diprediksi baru akan berakhir 100 persen pada Agustus 2020. Pandemi virus corona di Amerika Serikat diperkirakan berakhir pada 13 September 2020. Sementara pandemi COVID-19 di seluruh dunia diprediksi akan berakhir 100 persen sekitar Desember 2020.ADVERTISEMENT
Sejauh ini pemerintah Indonesia telah membuat sejumlah aturan untuk menekan angka penyebaran COVID-19 termasuk kebijakan pembatasan sosial berskala besar (PSBB), rapid test massal, dan pelarangan mudik. Kasus positif COVID-19 yang diumumkan pemerintah Indonesia terus meningkat. Sampai hari ini, Kamis (30/4), pemerintah Indonesia telah mengumumkan 10.118 kasus positif, di antaranya 792 pasien meninggal dunia, dan 1.522 sembuh.
sumber : kumparan.com